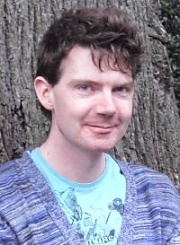 Darragh Martin was born in Dublin in 1980. After an early gig writing a Leaving Cert diary for The Irish Times, Darragh studied English and Drama at Trinity College and received a Fulbright Scholarship to develop his playwriting in 2006. He completed his PhD in Theatre at Columbia University in 2013 and continues to teach at Columbia as a postdoctoral fellow.
His debut novel, The Keeper , (New Island) was short-listed for Best Senior Children's Fiction at the Irish Book Awards, 2013).
This is what Eoin Colfer had to say about it:
'The Keeper is far too good for my liking. Darragh Martin must be stopped….. I couldn't sleep until I finished it.'
He has also written a story for 'In Magic: New Irish Fairy Tales, (Frances Lincoln 2015).
Darragh's plays include An Air Balloon across Antarctica (Edinburgh, New York and Melbourne Fringe Festivals), The Map of Lost Things (First Irish Festival, New York 2010) and Why Pluto is a Planet (Samuel French Off-Off Broadway Festival, 2011).
He also tutors primary school children in Brooklyn.