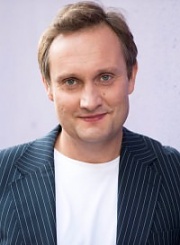 Mario Rosenstock is an Actor and Writer and the creator of 'Gift Grub' and 'Special 1 TV'.
His popular Gift Grub segments have featured on the Ian Dempsey Breakfast Show on Today FM since 1999. Gift Grub is a series of comic sketches, impersonations and parodies that have featured Mario assuming the personae of Bertie Ahern, Ronan Keating, Colin Farrell and Roy Keane amongst many others. Mario has released Gift Grub albums all of which have appeared in the Irish Top Ten, with several Christmas number ones.
Mario is in constant demand for corporate events, both hosting events and performing afterdinner sketches. Some of the companies he has worked with are Irish Funds Industry, Dell, Cook Medical, Bank of America, Aviva, BT, Munster Rugby, Eircom, Media Awards, LPI Awards.
In 2005, he starred as Keano in the comedy musical play I, Keano, which concerns Roy Keane storming out of the Republic of Ireland's national football squad during preparations for the 2012 FIFA World Cup.
Mario's impersonation of Jose Mourinho in a parody of a song from the musical Joseph and the Amazing Technicolour Dreamcoat, was picked up by Sky Sports and this led to a private show for Jose Mourinho and the Chelsea Squad.
In 2007 Mario began developing a satirical sports puppet show for the Setanta sports network. Originally called 'I'm on Setanta Sports', it is now known as Special 1 TV after its successful transfer to the BBC.
It was presented as a parody weekly football talk show hosted by "José Mourinho". Mario voiced all the puppet characters on the sketch, with the exception of "Rafael Benitez", who was performed by Keith Burke.
In 2009 , Mario scored a huge box office hit with the 'Gift Grub Live' stage show which he developed with Ian Dempsey. Selling over 45,000 tickets the show performed 2 sold out nationwide tours, culminating in five sold out performances at the Grand Canal Theatre in Dublin and a best selling DVD.
Mario has been the winner of a PPI national radio award for 'Gift Grub' on six different occasions,'01,'02,'04,'05,'07 and '09. In 2011 he won the PPI Outstanding Achievement Award.
In 2012 he finally brought his many characters to TV in his sketch show called The Mario Rosenstock show on RTE 2. The show consists of a series of sketches caricaturing celebrities and Irish peculiarities.
The Mario Rosenstock Show

Mario as Joan Burton on the Late Late Show

Mario as Michael Flatley on the Late Late Show

Click here to visit Mario's Website.
Click here to visit Mario's section of the Today FM website.
Click here to launch iTunes on your computer and visit the Gift Grub Podcasts.