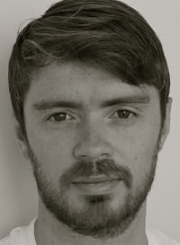 Hugh Travers is a writer of live action drama, comedy, theatre, animation and documentary.
Film & TV
His most recent credits include Trial of the Century, a landmark historical drama series starring Tom Vaughan Lawlor, produced by Treasure Entertainment & Loosehorse for TV3. He regularly writes episodes of Red Rock, a long running procedural drama series on TV3, BBC and Amazon Prime.
He is currently developing a new comedy-drama series with Channel 4, BBC Worldwide and Deadpan Pictures and is working on feature projects with Lemming Films (Hollan), Deadpan Pictures and Treasure Entertainment. His script, Over The Bar, recently appeared on The Brit List, a shortlist of the best unproduced scripts in the industry.
Hugh's past credits include The Variety Show, an animated series, produced by A Man & Ink and RTE and he developed The H-Files and Chicklings with the IFB and Paper Dreams.
He created the comedy panel show format Choose or Lose with Screentime Shinawil and RTE and was head writer on the pilot episode. He was also the head writer on The Big Pitch, a panel show pilot for Sky and was the writer and chief researcher on Green Is The Colour, a hugely successful 4 × 1 hour documentary series for Treasure Entertainment and RTE.
He is currently Screenwriter in Residence at University College Cork. His award winning short films include, Crossword, An Cosc, Special Ed & The Big Girl.
Theatre
Hugh's critically acclaimed play LAMBO premiered at Dublin Fringe Festival and completed a national tour in 2014. He adapted it for RTE Radio 1. It won the PPI Drama Award for Best Radio Play.
His previous play Clear The Air ran at Theatre Upstairs and the Electric Picnic Arts Festival.
In 2011 he was selected as a participant of Rough Magic SEEDS, a 2-year professional development programme for theatre which included staged readings of his plays Cardboard City and The Disappeared.
His theatre scripts have been longlisted for the Bruntwood Prize, the Verity Bargate Award and the Eamon Keane Full Length Play Award. He was recently runner up in the 2016 Creative Europe Pop Drama Award.
He is currently developing a new play with the support of The Abbey Theatre.
*****
Hugh is a graduate of D.I.T (B.Sc. Communications: Film and Broadcasting) and The Huston School of Film (M.A. in Screenwriting). He received a scholarship to The Professional Programme in Screenwriting at UCLA and has previously been Screenwriter in Residence in Maynooth University.