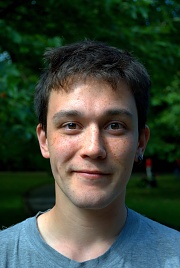 Dylan Coburn Gray is a writer, theatre-maker and spoken word artist based in Dublin. His play Citysong won the Verity Bargate Award in 2017 and will premiere in London and Ireland in 2019. He is currently working on a new play commission for Fishamble.
His play Boys and Girls premiered as part of Dublin Fringe 2013, winning the Fishamble Best New Writing Award. It was nominated for the Stewart Parker Trust Award, and for the Best Theatre Script Award at the Irish Writers' Guild Awards (Zebbies).
His play Blackcatfishmuskateer was nominated as Best New Play at Dublin Fringe in 2016 and performed at Camden People's Theatre in 2018. He is a founder member of contemporary Irish theatre company Malaprop with whom he has devised several pieces including Everything Not Saved which will be performed at Edinburgh Festival 2018. His first plays were written for Dublin Youth Theatre; And Then He Was All in 2010 and Tarot in 2011, the first of which is available through NAYD's Playshare programme.