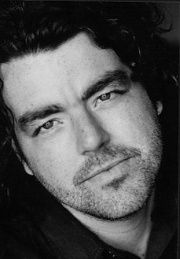 Stephen Bradley is an award-winning writer, director and producer.
His latest feature NOBLE, which he wrote and directed, is a biopic of Christina Noble, the extraordinary champion of children's rights in Vietnam and Mongolia. NOBLE was the winner of the Panavision Spirit Award for Independent Cinema, given to a feature made outside mainstream Hollywood, at the 29th annual Santa Barbara International Film Festival.
NOBLE will be released in cinemas in the US on 8th May. View Official US Trailer here:

Stephen is then scheduled to direct his own screenplay THE UNKNOWN SOLDIER (featuring Cillian Murphy, Craig Roberts, Toby Stephens, Ken Duken, Vincenz Kiefer, Sylvie Testud and Olivier Rabourdin). The film is a war-time thriller set in a remote Burgundy farm-house in 1942.
He is also developing comedy feature THE HIGH FIVE in collaboration with the cast: Domhnall Gleeson, Mark Huberman, Tadgh Murphy, Paul Reid and Laurence Kinlan.
Stephen studied Law at Trinity College, Dublin, graduating in 1989. He was Assistant Line Producer on MY LEFT FOOT and then worked in Development at Windmill Lane Pictures and Ferndale Films.
In 1993 he started Temple Films with producer Ed Guiney and co-produced AILSA (1994, directed by Paddy Breathnach, Winner Best First Film at San Sebastian) and GUILTRIP (1995, directed by Gerry Stembridge, Official Selection at Venice.)
In 1994 Stephen began writing and directing with short film REAPER selected for Official Competition at the Venice Film Festival. He completed a series of 90 × 1 minute films called BARABBAS for TnaG winning Best Entertainment Series at the Celtic Film Festival in 1997.
In 1998 Stephen wrote and directed his debut feature film, SWEETY BARRETT, starring Brendan Gleeson, Liam Cunningham and Andy Serkis, which was chosen for Official Selection in Toronto and Official Competition in San Sebastian.
Following the award-winning short NO, NO, NO (Channel 4) Stephen's second feature was BOY EATS GIRL (2005, starring David Leon and Samantha Mumba, which was sold world-wide including US distribution by Lionsgate.)
Stephen has also directed many Stand-Up Comedy shows for television/dvd, several series of documentary programmes HANGING WITH HECTOR (RTE) and three feature length comedy-sports documentaries, CHASING THE LIONS (1 & 2) and CHASING THE BLUES.