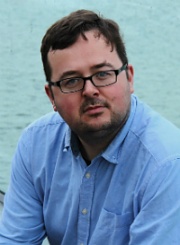 James has won the 2017 IFTA for Best Script Drama for Wrecking The Rising, a three part TV historical time-travel comedy drama which aired on TG4 to great reviews.
He is also the creator of Striking Out for RTE and Blinder Films which broadcast recently to huge popular and critical acclaim in both Ireland and America.
His other work for TG4 includes the seven-part series Galway Races. The comedy drama was broadcast to critical and audience acclaim in 2009. The series won an IFTA, while James was also nominated for an IFTA for 'Best Script in Television Drama' for the series. He also penned the second series Galway Races 2, which was broadcast to an equally strong positive reaction from viewers and reviewers.
James' recent animation work includes Oddbods, the hit children's comedy TV series for One Animation/Boomerang TV, and also Cuby Zoo.
His first feature screenplay Keep the Customer Satisfied was selected for Moonstone Screenwriting Labs in 1998. His short film credits as writer/director include the Filmbase/RTE short Poetic License and the RTE/Galway Film Centre short The Ottoman Empire which recently screened at Foyle Film festival. His short film Play Dead formed part of the portmanteau digital feature Hotel Darklight. James also directed this supernatural-tinged short. A recent feature script Banshee was selected for the Equinoxe screenwriting workshop in Norway. James has also contributed a segment to Ulysses Film's Ten Commandments series broadcast on BBC NI in 2012. He wrote a monologue based on 'Thou Shalt Not Kill'. In theatre, James' one act play Fashion Victim was produced and performed by the acclaimed Red Kettle Theatre Company in 2007.