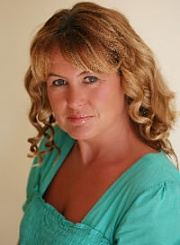 Fiona Looney has written two hugely successful stage plays, Dandelions and October, both of which enjoyed extended runs at the Olympia Theatre, Dublin and at The Opera House, Cork.
Prior to her debut as a playwright, she carved a career as a journalist, scriptwriter and broadcaster, becoming a household name through her columns in The Sunday Tribune and, for the past four years, The Daily Irish Mail and The Irish Mail On Sunday.
She has appeared regularly on television – Midday for TV3, and The Late Late Show, The Panel and Capital D for RTE are amongst her most recent credits – and she has worked extensively on radio, both in Ireland and in the UK. She presented a weekly programme on BBC London for two years and has contributed to BBC Radio One, Radio Four and BBC Glasgow. In Ireland, she presented two series of the travel series Voyager on RTE and was a weekly contributor to The Gerry Ryan Show for 22 years. She currently co-presents Ballbusters on 2FM.
Her scriptwriting credits are likewise split between Ireland and the UK. Her television credits include The Fast Show (BBC), No Limits (Sky One), This Is Ireland (BBC) and You're A Star, Chain Reactions, Buried Alive and The Irish Film and Television Awards, all for RTE. She devised Celebrity Bainisteoir, which was a critical and commercial hit for RTE.
On radio, she co-wrote two series of the acclaimed Monica Moody Show (RTE) and as Amelia Golightly, scripted and presented spoof '_Thought for the Day_' reflections nightly on 2FM for more than five years. She was a regular writer on BBC Radio 4's long running satirical review, Week Ending and in 2001, had her first radio play, Golf Widows, produced by RTE. She wrote and presented two series of Backchat, a satirical panel show, for RTE in 2007.
She is also on intimate terms with Dustin the Turkey – in 2002, she wrote his first feature length movie, Fowl Play, for Warner Home Video. A book of her newspaper columns, Misadventures in Motherhood, was published in 2005.
She has just written Cinderella for the Olympia Theatre which is her first pantomime. Oh no it isn't. Oh yes it is.