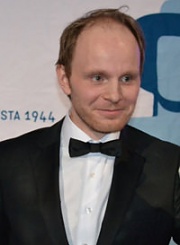 Thomas 'Dome' Karukoski is a Finnish film director who was born in Cyprus. His film LAPLAND ODYSSEY became the biggest grossing comedy in the history of Finnish cinema and Karukoski won Best Director for the film for the second time in three years at the annual Finnish Film Awards (The Jussi Awards).
His first feature BEAUTY AND THE BASTARD showed at the Berlin International Film Festival and Tribeca Film Festival in 2006. The film, which stars Pamela Tola, won the Norwegian National Film prize (Amanda) for Best Nordic Debut-Film. BEAUTY AND THE BASTARD was also nominated in 8 categories for the Finnish National Film Awards. The film won the Audience Award and the prize for Best Music.
His second feature film THE HOME OF THE DARK BUTTERFLIES premiered in Finland January 2008. A drama about Juhani, a 13-year castaway sent to a home for boys on an island, THE HOME FOR DARK BUTTERFLIES was nominated for 10 Jussi Awards, and Karukoski won the prize for the Best Director.
THE HOME OF FOR DARK BUTTERFLIES was also chosen as Finland's representative both in the The Nordic Council Film Prize and the Academy Awards.
Karukoski's 3rd feature film FORBIDDEN FRUIT premiered in February, 2009. FORBIDDEN FRUIT is a coming of age story about two religious girls. The film was shown in festivals throughout the world – from Shanghai to Bogata – winning several awards internationally and in Finland.
His recent film HEART OF A LION premiered at Toronto Film Festival last year to critical acclaim.
See trailer below.
HEART OF A LION – Official Trailer

LAPLAND ODYSSEY – Official Trailer