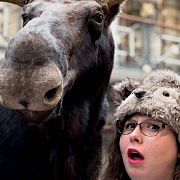 Alison is an award-winning writer and comedian.
She is currently working on comedy projects with Deadpan Pictures and also Baby Cow Productions.
Her RTE Comedy Bites series of sketches were very well received and she wrote and performed her own segment, "A Guide to Mullingar", on Republic of Telly.
Alison's short films have won various awards and she has contributed to a number of sketch shows (RTE, BBC).
Her one woman show Alison Spittle Discovers Hawaii is a run away success, selling out various Irish festivals and nominated for The Little Gem Award, Best Show under an Hour and the First Fortnight Award 2015, the First Fortnight Festival being a platform for de-stigmatising mental health issues.
Alison is a columnist for headstuff.org and formerly the University Observer. Her article "Why can't all lads be sound like Hozier" gained national attention. It's one of the most popular articles on that website.
She performed at the Mountains to Sea Festival, Dun Laoghaire for The RTE Book Show.
She's a weekly contributor to The Right Hook on Newstalk every Friday and live-blogged the recent elections for the station.
A panel show captain, she's interested in creating panel show concepts as well as short films and sitcoms.
"Her comedy is as bright as her website." – TV Bomb
"Highly entertaining" – Irish Times
"Spectacular in a beautifully surreal way" – Irish independent
"Hilarious, moving and thought provoking" – Dailyedge.ie