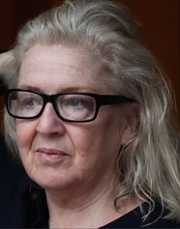 An award winning scenographer, Monica Frawley has designed set and costume for all the major theatre companies in Ireland and many in Britain, US and Europe and sometimes also as director. She works across opera, dance, theatre and film and was Design Co-ordinator for the Special Olympics in Dublin in 2003.
She has designed the premiere productions of works by many of Ireland's leading writers including Tom Murphy, Brian Friel, Frank McGuinness, Marina Carr and Seamus Heaney. She has worked with many eminent directors including Joe Dowling, Patrick Mason, Trevor Nunn, Neil Jordan, Garry Hynes and Selina Cartmell. She trained at Dun Laoghaire School of Art and Design, the National College of Art and design, Dublin, and Central, St Martin's School of Art and Design, London.
Monica is in demand as a lecturer and leads workshops on stage design at art schools and universities throughout Ireland and the UK. She has mentored many young designers through her participation in the Rough Magic 'Seeds' programme.
Her extensive work for theatre includes:
By the Bog of Cats (Premiere 1998 / 2015), Juno and The Paycock, The Tempest, Translations, Conversations on A Homecoming, The Gigli Concert, Too Late for Logic, The Playboy of the Western World, (Abbey Theatre); Snow White, Sheep's Milk on the Boil, Heavenly Bodies, (Peacock Theatre); The Red Shoes 2017/2018 (Gate Theatre); 'Same Ol' Moon' Dracula, The Ointment Blue, At the Black Pigs Dyke and The Song of the Yellow Bittern, A Crucial week in the Life of a Grocer's Assistant, (Druid Theatre Company); Da, Macbeth, The Home Place, The Burial at Thebes, (Guthrie Theater, Minneapolis); The Taming of the Shrew (Rough Magic);
Titus Andronicus, A Tender Thing, (Siren Productions); The Playboy of the Western World, Punk Rock (Lyric Theatre, Belfast).
Her work for opera and dance includes:
The Wolf and Peter (UK Tour / Sydney Opera House 2017);
Out of Harm's Way, Touch Me I'm Sick. (CoisCéim Dance Theatre);
Orfeo and Euridice, Immeneo, A Streetcar named Desire, A Midsummer Night's Dream (Opera Ireland); I Puritani (Staatstheater Burenberg).