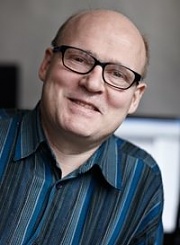 Frans Bak is best known for his award-winning composition of the huge hit series THE KILLING (Forbrydelsen), which was nominated for 3 Emmys. He has also scored THE KILLING II & III & IV (Forbrydelsen II/_III_/_IV_) along with the score for all four series of the US version of THE KILLING for AMC. More recently he has scored the Turkish remake, CINAYET.
Frans most recently scored the hit BBC1 drama DR. FOSTER for Drama Republic.
Other recent film work includes French feature LES BLEU CATACOMBES, directed by Charlotte Brandstrom and Danish feature MGP MISSIONEN, directed by Martin Miehe-Renard. Other recent TV includes 13 STEPS DOWN for ITV, LILLYHAMMER for NKR, Danish crime series GERNINGSTEDET, US documentary series DEATH VALLEY and French series DISPARUE.
During his career Frans has scored 3 Oscar-nominated shorts: ERNST & LYSET, HELMER & SON and Skal vi være kærester?.
Frans has 30 years of music experience in the Scandinavian television and film industry. He was educated at the prestigious Royal Danish Conservatory. After graduation he went on to play in several Danish bands, appearing as bandleader in over 100 TV shows. In 1988 commercial television launched in Denmark and Frans began scoring commercials.
To date Frans has scored well over 100 commercials. In 1990 Frans began scoring for film and television, covering all genres from symphonic orchestras to smaller ensembles and electronic scores. In 2002 Frans recorded his first TV crime series, THE FIFTH WOMAN (Den 5:e kvinnan) for Swedish Television. Later that year Frans composed all 20 episodes of the Emmy award winning Danish drama NICHOLAS & JULIE (Nikolaj & Julie).
To listen to Fran's work please click here.