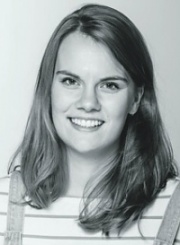 Frankie Bradshaw is an exciting young set and costume designer working in theatre and performance. Her recent designs for Orca at Southwark Playhouse and Adding Machine at Finborough Theatre are currently nominated for Off West End Theatre Awards.
She studied at Liverpool Institute for Performing Arts graduating with a 1st class honours in Theatre and Performance Design BA, and was also a Linbury prize finalist in 2015 working with the Lyric Theatre, Belfast.
Frankie's designs for theatre include: Orca (Southwark Playhouse), Adding Machine (Finborough Theatre), Clickbait and A First World Problem (Theatre 503), Barbarians (Young Vic – JMK Award 2015, Olivier Award Nominated), Grav (Torch Theatre, Wales), Stories from the Sea (Unity Theatre, Liverpool), Punk Rock (Actor's Studio, Liverpool), A Picture of Dorian Gray and The Comedy of Errors (LIPA, Liverpool).
Site-specific work includes co-designing: Karagula (STYX, Tottenham) and If Walls Could Talk: 100 Seel Street (Seel Street, Liverpool). She has also designed the Young Vic's 5 Plays 5 Days and Fresh Direction projects.
She has worked as associate designer to Christopher Oram on many productions including: No's Knife (Old Vic Theatre), The Winter's Tale/Harlequinade/Romeo and Juliet/The Entertainer (Garrick Theatre), Man and Superman (National Theatre), Photograph 51 (Noel Coward), Hughie (Booth Theatre, New York), and Damsel in Distress (Chichester Festival Theatre).