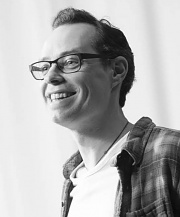 Two decades of feature film, long-form drama, documentary and advertising work have made British-Finnish Ben Mercer one of Finland's most sought after editors, with a growing reputation and experience throughout Europe and Scandinavia.
His current and recent projects include drama series Rebellion (in production) an Element Pictures/Touchpaper Television co-production for RTE and The Midwife, directed by Antti Jokinen, due for theatre release this autumn. Ben's work on Aku Louhimies' Naked Harbour (2012) saw him nominated for best editing at the Jussi Awards, Finland's "Oscars".
Please click Features and Spots to see his complete oeuvre.
Producers and directors value Ben's keen eye not only as a creative editor but also as a perceptive script analyst. As a creative editor, Ben helps find ways to maintain the integrity of a script's narrative structure while allowing for the emergence of the unexpected – the revelation of a great film's inherent cinematic beauty. His holistic approach to editing also embraces the integration of ever-evolving technological solutions to further improve both creative editing and productivity in relation to budget and deadline restrictions. Partly as a result, high footage counts do not daunt him.
Ben attended school in the UK and Finland. He holds a degree in Film Editing from the University of Tampere, where he is also a part-time lecturer in film editing.
He is bilingual and fluent in English and Finnish and has some working proficiency in Swedish and German.
Website: www.ben.fi
The Midwife Trailer

Naked Harbour Trailer