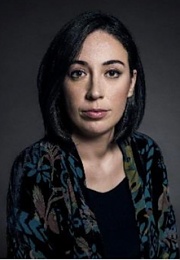 Ana Inés Jabares-Pita is a stage designer. Her work crosses a range of genres; opera, dance, theatre, installation, concerts and film. She also has an extensive musical training which underpins her interest in sound as part of the scenography. She was recently awarded an artistic residency in Florida to research augmented reality, video games and new technologies with painting.
Some of her most recent work includes: The world premiere of To See the Invisible (Aldeburgh Festival 2018), Cockpit, Charlie Sonata (The Royal Lyceum), Pride and Prejudice 'sort of, Daphne Oram and the Wonderful World of Sound (Blood of the Young, Tron Theatre), Aladdin (Perth Theatre), Wish List (Best Studio Production in Manchester Awards, Royal Exchange and Royal Court), George and the Marvellous Medicine (Dundee Rep), LeLa & Co (Royal Court Theatre) and The Echo Chamber (Young Vic).
Ana Inés' work has received multiple awards and nominations including Overall Winner of the Linbury Prize for Stage Design 2013 for her design proposal of The Driver's Seat for the National Theatre of Scotland, which was also selected for the World Stage Design exhibition in Taipei 2017, and 3rd Prize in the European Opera Prize 2016 for La Traviata, with the director Max Hoehn. She became part of the Gate Theatre's Jerwood Young Designers in 2014 for her proposal of Idomeneus . This was also selected by the V&A in London to become part of its archive. Last year she was the winner of the Design category of HECHOS DE TALENTO. Part of the award involved being the face of Spanish design in some of the most emblematic places all over the world including Piccadilly Circus, London and Times Square, New York.