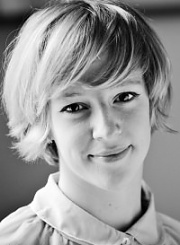 Alma Kelliher is a composer, sound designer and musician.
Winner of the 2013 Irish Times Theatre Award for sound design on riverrun, Alma fuses composition and sound design in her work to create a free flowing sonic environment for theatre and film.
Recent theatre credits in Ireland and the UK include: riverrun (Emergency Room) Winner Best Sound Design, Irish Times Theatre Awards 2013; The Elephantom (Royal National Theatre, London and West End); The Man Jesus (Lyric Theatre, Belfast and West End); Way Back Home (Louise White, Dublin Fringe Festival) Winner Spirit of the Fringe 2013; Cure (Fearghus Ó Conchuir); Elevator (thisispopbaby); History (THEATREclub); Death of a Tradesman (Talking Shop Ensemble); Travesties (Rough Magic); Edinburgh Fringe First award winner Minute After Midday (15th Oak) and as assistant sound designer/composer on Hansel and Gretel and Beauty and the Beast (Katie Mitchell, Royal National Theatre, London).
She has a BA in Music from Trinity College, Dublin and an MSc in Sound Design from Edinburgh University. She studied Organ to diploma level with the London College of Music and Media and is a graduate of the Rough Magic SEEDS Programme 2010-11 and the Next Stage Programme 2011.
Alma is a member of The Evertides – a musical trio influenced by folk, gospel and close vocal harmony. Following numerous sell-out shows in Dublin, The Evertides are taking some time to record original work in 2015. More info here.
For more info and to listen to samples of Alma's work please click here:
See an interview with Alma about her work at the National Theatre here:
Hear The Evertides here