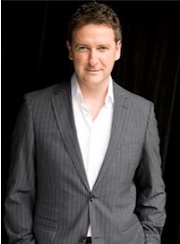 Risteárd Cooper has been acting on stage and screen for over 20 years and is one of the most versatile performers currently working in Ireland and the UK. A classically trained singer, a gifted mimic and comedy writer, he has twice been nominated 'Best Actor at the international Monte Carlo Television Awards' in 2010 and 2011.
Risteárd has huge experience in hosting and speaking at corporate and sports events, consistently delivering topical, funny and intelligent material for a growing number of clients.
Recent events include: The PFAI Awards, APMC Marketing Awards(host), Green Awards(host), IRFU Charitable Trust Gala Dinner with Brian O' Driscoll (host), London Irish RFC Annual Dinner, Keith Wood's Six Nations Review Dinner, and The Golden Spiders Awards (host).
Over the last fourteen years he has written and performed with comedy team Apres Match who have produced hundreds of TV sketches, sell-out live shows and eight chart-topping DVD's. He toured New Zealand and South Africa in the hit TV shows Chasing The Lions and starred in his own critically acclaimed one-man TV satire The State of Us for RTE.
In theatre he has performed lead roles in all the major Irish theatres, most recently starring as Henry Higgins in Pygmalion at the Abbey and as Joxer in Juno and the Paycock at the National Theatre, London.. From Spring 2013 Risteárd will be seen in the Conor McPherson's The Weir at The Donmar Warehouse, Covent Garden. Risteárd recently performed alongside Ardal O' Hanlon in The Weir at the Donmar, London
Risteárd Cooper also manages to pen a regular rugby column in the Irish Times, often without ever actually referring to rugby.
"Risteárd Cooper is superbly theatrical, absolutely in tune with the romantic-comedy lightness of touch" THE SCOTSMAN
"The writing is superb and savagely funny" EVENING HERALD
"laugh out loud funny… Risteárd Cooper in hilarious form" THE IRISH TIMES