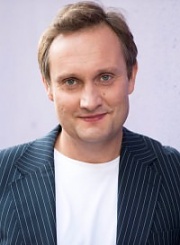 Mario Rosenstock is an Actor and Writer and the creator of 'Gift Grub' and 'Special 1 TV'.
His popular Gift Grub segments have featured on the Ian Dempsey Breakfast Show on Today FM since 1999. Gift Grub is a series of comic sketches, impersonations and parodies that have featured Mario assuming the personae of Bertie Ahern, Ronan Keating, Colin Farrell and Roy Keane amongst many others. Mario has released Gift Grub albums all of which have appeared in the Irish Top Ten, with several Christmas number ones.
Mario is in constant demand for corporate events, both hosting events and performing afterdinner sketches. Some of the companies he has worked with are Irish Funds Industry, Dell, Cook Medical, Bank of America, Aviva, BT, Munster Rugby, Eircom, Media Awards, LPI Awards.
In 2009 , Mario scored a huge box office hit with the 'Gift Grub Live' stage show which he developed with Ian Dempsey. Selling over 45,000 tickets the show performed 2 sold out nationwide tours, culminating in five sold out performances at the Grand Canal Theatre in Dublin and a best selling DVD. Gift Grub Live is on tour again in 2014.
Mario has been the winner of a PPI national radio award for 'Gift Grub' on six different occasions,'01,'02,'04,'05,'07 and '09. In 2011 he won the PPI Outstanding Achievement Award.
In 2012 he finally brought his many characters to TV in his sketch show called The Mario Rosenstock show on RTE 2. The show consists of a series of sketches caricaturing celebrities and Irish peculiarities.
"Mario was fantastic and absolutely hilarious. Our client was over the moon with the performance, as were we." Sheil Entertainment, 2016
"Mario completely energised the room. He customised his show so well. The audience had a superb evening and the organising team also! It was a wonderful show and Mario was a pleasure to work with." Carol and Associates on behalf of Centra, 2017
Click here to visit Mario's Website.