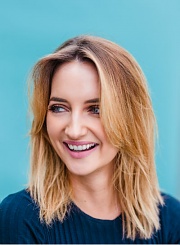 Caroline Foran is a successful lifestyle journalist and best-selling author of the number one non-fiction hardback, Owning It: Your Bullsh*t Free Guide To Living With Anxiety. Published by Hachette, this book has remained at the top spot in the Irish hardback non fiction bestseller list since its release in May 2017.
Currently, she is writing her second book – which takes on the fear of failure and building confidence – which is due for release in early 2018. Caroline earned her journalism stripes at entertainment.ie where she rose through the ranks to become Editor in Chief at the age of 24. She then moved into print publishing, working at IMAGE Magazine across various titles and building their digital offering. Today, in between book writing, she writes for the Irish Times, the Sunday Business Post and the Independent Weekend Magazine.
A new face on Irish TV screens, as well as a new voice on Irish radio waves, Caroline has struck a chord with her no-frills approach to mental health. She's been invited to give many talks to various groups on stress management and how to understand anxiety in a refreshingly entertaining way. She has a degree in Communications and a Masters in Film and TV.