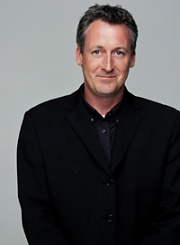 Barry Murphy is the co-founder of the Comedy Cellar – Ireland's longest running comedy venue, and is easily recognised as one of the "ten kings of Irish Comedy over the last 20 years" (Hot Press Magazine).
Barry has successfully hosted events like The Irish Film Awards; two Amnesty "Best Of Irish" Showcases for Granada TV, the Irish Business Internet Awards as well as numerous corporate and charity functions. Just ask Renault, Levi's, Thorn EMI, Pan International, ICS, Microsoft and many more.
As his alter ego, Dr Günther Grun, Barry buries himself in the company and re-emerges as a visiting consultant who incorporates slides of sales figures/targets, Christmas party photo's, advertising campaigns, company outings etc in his presentation..
The combined effect is that that those attending embrace the ideas outlined in the conference – enjoy a presentation that contextualises the conference theme, emphasises team bonding whilst also celebrating the individuality of the delegate through humour.
The last few years have seen him concentrating on writing and performing Irish Pictorial Weekly, Soupy Norman and Après Match and Irish Pictorial Weekly.
What Barry did with our slides on best practice internal auditing was hilarious! The gala dinner was brought alive with a send up of the day's proceedings – a must for every conference.
(Michael Bullock.. Internal Auditors Institute)
A great success! Barry captured and delivered what we wanted. Lots of laughs cleverly plotted around the use of internal corporate material. Barry created new material from some very commonplace corporate slides ensuring that it fit perfectly with the theme of our event.
(Jim Hamilton. BDO Simpson Xavier)
Helped make the evening .. Thanks for a great job.
(TOM FOLEY, U.S Ambassador)
"Barry did a great job! The audience loved him!"
(Mason, Hayes & Curran)
Barry also specialises in Golf outings – Prize giving, after dinner speech and analysis of the CEO's swing.
Golf Outings:
O2 golf day (4 years running), Marina Dalgleish Trust (Formby, Liverpool), European tour (Irish Seniors open, Adare Manor)
Ulster Bank golf day (Druids), McNamara builders, Ronan Keating Golf classics (K club, Killerig), Vitners, (Mt Juliet), Alphyra (Powerscourt, Luttrelstown), Eamonn Coughlan classic, Spar Outing( Luttrelstown), Gary Kelly Golf classic (4 years running in Baltray), Foxrock and Edmonstown xmas parties, C&C (PGA National) CMAE (Castleknock) AIB (Adare Manor).
Barry on the Late Late Show

Promo for Irish Pictorial Weekly