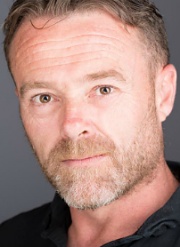 Downloads
scroll to see all
High Res
[44.42KB]
Screen Res
[400px]
High Res
[48.33KB]
Screen Res
[400px]
High Res
[3.89MB]
Screen Res
[400px]
High Res
[2.40MB]
Screen Res
[400px]
Eric has just been crowned Irish Standup of the Year for the second year in a row by the readers of entertainment.ie. A remarkable achievement given that he was up against some of the bigger names in Irish comedy.
Eric Lalor's first foray into comedy was a bit unusual. In 2006, as one of the participants of RTE Two's Des Bishop's Joy In The Hood, his first ever gig was filmed on his home turf of Ballymun in Dublin and broadcast to the entire nation.
Des went to Ballymun in search of new comedic talent and discovered Eric. Des was so impressed with what he saw that he brought Eric on his record-breaking, nationwide 'Fitting In' tour. Opening the show at 'Live at the Marquee' in Cork, Eric performed to 5,000 people.
Since then, Eric has gone from strength to strength and has now garnered a reputation in Irish comedy as a consistent performer, making him one of the most sought after acts in the country. His first year in the highly competitive world of stand-up comedy saw him win the Comedy Cellar and Capital Comedy Club's Best Newcomer Award.
As a capable, flexible performer it is hard to pigeon hole his act. His warm, energetic onstage presence makes for an unforgettable experience for the audience. With gags that always hit the spot, his engaging, high intensity performances make him one of the top names of 'must book' comedians.
Eric is now a regular act at the prestigious Kilkenny Cat Laughs Festival, as well as playing the Electric Picnic, Galway Comedy Festival, Edinburgh Fringe, Portlaoise Halloween Howls and Iveagh Gardens Festivals as well as being invited to perform at the very first ever London Irish Comedy Festival in Oct 2012
He has also opened for some of the biggest names in Irish comedy including Tommy Tiernan, Des Bishop, Jason Byrne, PJ Gallagher, Andrew Maxwell, Colin Murphy and more.
In 2008 Eric wrote and performed his first solo show, The Lalorpalooza Show, which earned him rave reviews and a sold-out night at Axis, Ballymun. In 2009 he embarked upon his first nationwide tour with fellow comedian Andrew Stanley.
He also toured with his second solo show, Here! No Evil which again was met with great reviews
More recently, he has come to the attention of TV producers and now he is one of the most popular warm up acts for live TV performances. Eric is in demand in RTE, TV3 and Ardmore Studios working on shows such as The Late, Late Show and Deal or No Deal.
He is also a regular panellist on the Craig Doyle Show on RTE2
The future does indeed look bright for Eric and is widely regarded in the industry as one of the ones to watch in the years ahead. He is making inroads into the UK comedy scene and has begun writing a new show, which he plans to tour the country with in late 2013.
If you are a comedy fan, you know Eric Lalor: you know he never lets you down.
"Excellent, bellyachingingly funny, fast moving."
Kilkenny People
"Flawless… It's like Rab C. got Irish, got eloquent, but stayed scum"
Chortle UK
"His vibrant, super energised stage presence connects with the audience… We've NEVER seen a crowd react so emphatically to one of our acts."
Laughter Lounge, Dublin
"You know him as one of Ballymun's Best! After appearing on Des Bishop's Joy in the Hood—its been onwards and upwards! Who would have known such a comedy force would come out of one of Ireland's toughest areas! One of Ireland's finest talent's—-A MUST SEE"
The International Comedy Club
"Inimitable and hilariously funny"
Evening Herald
"Keeps on improving. His joke construction reminds me of John Maloney"
Barry Murphy, Après Match
'One of the things that I am most proud of is knowing that we helped Eric to his true calling. A pure natural'
Des Bishop