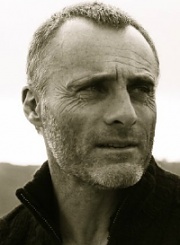 *to download videos, click play, then click the arrow on the upper right corner of the screen
Timothy V Murphy
Film credits range from the comedy spoof MACGRUBER, opposite Val Kilmer; to Ed Harris' Western period drama APPALOOSA; to the adventure thriller NATIONAL TREASURE: BOOK OF SECRETS; to the horror thriller, SHALLOW GROUND. In 2014, he starred in Jason Momoa's directorial debut ROAD TO PALOMA; the Funk Brothers' LOOMS, which premiered at the Santa Barbara Film Festival; and the adventure drama HEAVEN'S FLOOR opposite Clea Duvall. He just wrapped the indie ANYTHING starring Matt Bomer and TRAGEDY GIRLS opposite Brianna Hildebrand, Alexandra Shipp and Jack Quaid.
Most recently Murphy portrayed the sexy ex-con who grabs more than Jane Fonda's attention on the hit Netflix comedy, GRACE AND FRANKIE; played a pivotal role on season two of HBO's critically-acclaimed TRUEDETECTIVE; and was a series regular on last fall's eagerly-anticipated new FX drama from Kurt Sutter, THE BASTARD EXECUTIONER.
For three seasons on the Kurt Sutter FX hit series, SONS OF ANARCHY, Murphy played the man fans loved to hate: 'Gaalan', the head of the Irish syndicate who went toe-to-toe with Charlie Hunnam's 'Jax'. For his portrayal, Murphy won the 2013 BuzzFocus Readers Choice Award for Best Villain. Other memorable villainous turns include two seasons on NCIS: LA as Russian super villain 'Sidorov' and a season on another CBS hit series, CRIMINAL MINDS, as Paget Brewster's nemesis/love interest 'Ian Doyle'. He has guest starred on such hit series as HAWAII FIVE-0, REVENGE, BURNNOTICE, SHAMELESS, 24, NIP/TUCK, ALIAS and SIX FEET UNDER.
Murphy is also an award-winning stage actor and a Lifetime Member of The Actor's Studio. His theater credits include THE BEAUTY QUEEN OF LEENANEat South Coast Rep, for which he garnered an Ovation Award nomination, and Coast Theater's THE LOST PLAYS OF TENNESSEE WILLIAMS, which won the LA Weekly "Best Ensemble" Award and for which he garnered an individual "Best Performance" nomination. He originated the role of Jake in the world premiere of STONES IN HIS POCKETS at the Tivoli Theater, Dublin, and he starred opposite Tyne Daly in the production of AGAMEMNON staged at the Getty Villa in Malibu.