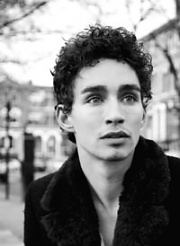 The following files are available for download by logged-in customers.

Robert Sheehan CV.pdf
[CV, 434KB]
If you already have access details please
log in now

Need access? - Contact us to arrange password access
Robert is currently appearing as RICHARD III in Trevor Nunn's THE WARS OF THE ROSES at the Rose Kingston Theatre.
Earlier this year he completed filming on Dean Devlin's latest feature GEOSTORM playing the role of Duncan for Warner Bros. Robert has also recently completed filming on features Jet Trash for Sums Films and Moonwalkers for Partizan Films.
He was recently seen on screen in The Messenger directed by David Blair for Gateway films, The Mortal Instruments, City of Bones directed by Harald Zwart for Constantin Films/Sony Pictures, in Anita B for Jean Vigo Italia and in The Road Within for Troika Pictures.
Robert made his debut in Aisling Walsh's acclaimed feature Song For A Raggy Boy and went on to appear in A Dublin Story, Ghostwood, An Creatur and Summer of the Flying Saucers. He appeared in Season of the Witch opposite Nicolas Cage and Ron Pearlman for Atlas Entertainment/Relativity, Cherrybomb directed by Lisa Barros D'Sa and Glenn Leyburn for Generator/Little Film Company and Killing Bono directed by Nick Hamm for Cinema Three/Generator.
On television he appeared in Foreign Exchange (Magma Film/9 Network Australia), as Prince Louis in Young Blades (Insight/PAX TV), The Clinic (Parallel Films/RTE), Bel's Boys (ITV), Rock Rivals (Shed Productions/ITV) and Bittersweet (RTE).
Robert appeared as BJ in the BAFTA Award winning Red Riding, a trilogy of films based on the novels of the same name by David Peace – Nineteen Seventy-Four directed by Julian Jarrold, Nineteen Eighty directed by James March and Nineteen Eighty Three directed by Anand Tucker all for Revolution Films/Channel Four.
He appeared as Nathan in the first two series of Misfits, the hit comedy drama produced by Clerkenwell Films for E4, for which he was nominated for a BAFTA for Best Supporting Actor. He appeared as Darren in Love Hate written by Stuart Carolan and directed by David Caffrey for Octagon Films/RTE for which he was nominated for a Best Actor (TV) IFTA. Other television includes The Borrowers produced by Working Title for BBC, Me and Mrs Jones for Hartswood Films/BBC and the BAFTA Award winning Accused created by Jimmy McGovern and directed by David Blair, also for BBC.
On stage he appeared at the Old Vic Theatre in the title role in The Playboy of the Western World, directed by John Crowley.
The Messenger Official Trailer

The Road Within Official Trailer

Robert Sheehan Showreel