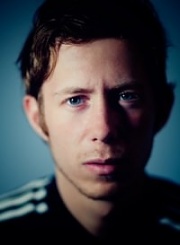 Robert de Hoog was born in Leiderdorp, The Netherlands and now lives in Amsterdam. In his home country, The Netherlands, Robert is regarded as one of the most talented actors of his generation and has risen to fame in just two years, while he was still in Theatre School.
Robert most recently featured as Koos in feature film THE FURY. He also played the leading role, Ian, in TV series CATCH, directed by Michiel Doekes, as well as having a recurring role of Danny Torenaar in HEER & MEESTER.
Next to his Emmy Award Nomination for Best Actor in SKIN, he is also one of the youngest winners of the Dutch equivalent of the Oscars, the Golden Calf. He is the first Dutch actor ever to work with Steven Spielberg, on WARHORSE, and recently completed a Dutch project with controversial BLACK BOOK director Paul Verhoeven.
Robert and SKIN director, Hanro Smitsman, joined forces again for the Dutch thriller DUSK (original title: SCHEMER). The cast consists of promising young Dutch actors.
NOVA ZEMBLA, the first Dutch 3D film, in which he plays the male lead next to Victoria's Secret model Doutzen Kroes, was a huge box office Christmas season hit in Dutch theatres in 2011. De Hoog also stars in THE DOMINO EFFECT by director Paula van der Oest, (director of the Academy Award nominated HOTEL PARADISO (original title: ZUS & ZO), the opening film of the Netherlands Film Festival in September 2012.
The Irish film LOVE ETERNAL, by award winning director Brendan Muldowney, in which Robert plays the male lead, hit screens during the 2013 festival season. LOVE ETERNAL was adapted from the Japanese novel 'Loving The Dead' by prolific horror author Kei Oishi.