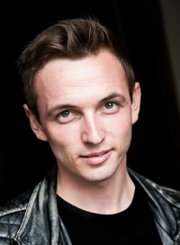 Punk Rock Theatre Trailer

Immediately after graduating from the Lír Academy in 2014 Rhys was cast in PUNK ROCK at the Lyric Theatre Belfast where his performance was nominated for an Irish Times Theatre Award for Best Actor (alongside Cillian Murphy and Ciarán Hinds) – the first time a professional debut was ever nominated in this category.
Originally from Belfast, Rhys is one of the very first graduates of The Lir, National Academy of Dramatic Art in association with RADA and Trinity College Dublin. Since then his stage performances include SCENES FROM THE BIG PICTURE directed by Nona Sheppard, SCHILLER'S MARY STUART directed by Conall Morrison, Shakespeare's TWELFTH NIGHT directed by Hilary Wood, Sondheim's INTO THE WOODS directed by Tom Creed and PAINS OF YOUTH directed by Wayne Jordan. His most recent stage roles were Martin in Martin McDonagh's A SKULL IN CONNEMARA for Nottingham Playhouse, and Corey in SHIBBOLETH for the Abbey Theatre/National Theatre of Ireland.
Screen roles include Andrew in THE SECRET for Hat Trick Productions/ITV, Justin in THE TRUTH COMMISSIONER for Samson/Big Fish Films, and Gerrard in L'ASCENSION for Mars International Films.