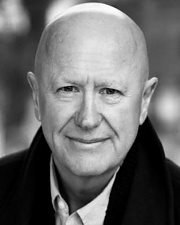 *to download videos, click play, then click the arrow on the upper right corner of the screen
Niall Buggy is one of the leading Irish actors of his generation who has worked extensively on the stage and screen in Ireland, the UK and the US. Some of his better known roles include the lead in Brian Friel's, Uncle Vanya, for which he won Best Actor in the Irish Times Theatre Awards and his role in Aristrocrats for which he won a number of awards including the Time Out Award, Obie Award in New York, Drama Desk Award and a Clarence Derwent Award. He was also awarded the Olivier Award for Best Comedy Performance in Dead Funny. His performance in Juno and the Paycock won him Best Actor in the Regional Theatre Awards.
Theatre work most recently includes The Importance of Being Ernest at the Harold Pinter Theatre and Translations (Sheffield Crucible).
Niall has appeared in films such as Mamma Mia, Casanova, The Butcher Boy, Alien 3 and The Playboys. Some of his television credits include; Inspector Lewis, Dalziel and Pascoe, Father Ted, The Bill and The Professionals.
Niall recently appeared in Jack Taylor 3 for Taylor Made Films Ltd and finished a tour of Ireland on stage in Druid's Tom Murphy Season. He most recently played John Carew in Mike Leigh's film 'Mr. Turner'.