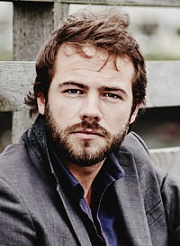 The following files are available for download by logged-in customers.

DunfordMoeJULY13.pdf
[CV, 156KB]
If you already have access details please
log in now

Need access? - Contact us to arrange password access
Moe graduated from the Gaiety School of Acting Full Time Acting Course in June 2009.
Moe appears as the recurring lead role of Aethelwulf opposite Linus Roache and Travis Fimmel in the hit TV series VIKINGS for History Channel/MGM. He is currently shooting Season 4.
Moe is also currently shooting John Butler's next feature film "Handsome Devil" opposite Andrew Scott.
Moe is one of ten European actors to receive a Shooting Star award in Berlin as part of the Berlin International Film Festival 2015. Click here for more details.
Moe was awarded the IFTA 2015 for Best Lead Actor, Film for his role as Patrick in Patrick's Day directed by Terry McMahon which first premiered at the prestigious SXSW Festival in Austin, Texas in March 2014. Moe was nominated for the prestigious Bingham Ray New Talent Award at the Galway Film Fleadh 2014 for his work on this movie which won the Best Feature Award at the same festival. Moe also won the award for best actor at the Hell's Half Mile Film Festival in Michigan amongst several other international awards and nominations.
Patrick's Day has gone on to receive critical and audience acclaim at festivals across Europe and North America and was chosen as the Irish entry for the Directors Guild Finders Series Award and has been screened in LA as part of this prestigious selection. Patrick's Day won the "Maverick" Grand Jury Prize winner of the 15th Woodstock Film Festival for best film.
Moe also recently appeared in the indie feature film Traders for Coco Television directed by Peter Murphy and Rachel Moriarty. Other screen work include RAW Series 5 in the recurring role Niall for Octagon/RTE, the recurring role of Christian in An Crisis Eile directed by Charlie McCarthy for Wildfire Films/TG4. Moe also appeared as Richard Leland in two episodes of Season 4 of The Tudors for Showtime/BBC and also appeared in season two of Game of Thrones (HBO).
In theatre, Moe recently played John Hinckley in Assassins, a Rough Magic Seeds production directed by Ronan Phelan and went on to appear as Dmitri in The Brothers Karamazov directed by Nicholas Johnson at the Samuel Becket Theatre in 2014.He appeared in Squat directed by Oonagh Murphy at the Cork Midsummer Festival and as Brutus in TEXT|Messages at the Kinsale Arts Festival and as Tybalt in Corcadorca's production of Romeo and Juliet directed by Pat Kiernan at the Cork Opera House.
Moe has appeared as Oberon in A Midsummer Night's Dream at Summer Fest in Bray and as Bob in Four Last Things for the Dublin Fringe Festival at Smock Alley Theatre directed by Garett Keogh which was nominated for a number of awards at the Best of the Fringe Awards. Moe appeared as Andrew Aguecheek in Twelfth Night in Dublin and Bray Summer Fest and as Catesby in Richard III directed by Valerie O'Connor in the chapel at Dublin Castle and in You Can't Just Leave There's Always Something by Spilt Gin Theatre Company(nominated for a number of awards at the Best of the Fringe Awards, 2011). Moe played the part of The Drummer in Purple directed by Edwina Casey in Project Arts Centre and as Macbeth in TEXT|Messages 2013 in Project Arts Centre. Other theatre credits include: 'Purple', 'The Muse Unbidden' by Roger Gregg and 'The Last Tirade' by Paul Marron.
Moe Dunford Showreel