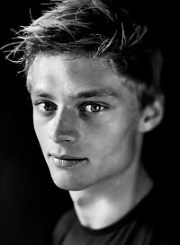 Jonas made his film debut with the One Night Stand (short film initiative of
Dutch broadcasters VPRO, NPS and VARA) Tunnelvisie ("Tunnel Vision"). More roles quickly followed and, in 2013, he became known with his leading role in the young director Mees Peijnenburg's graduation project Cowboys janken ook ("Cowboys Also Cry") and the feature film Het Diner ("The Dinner"). He also appeared in the television film Jongens ("Boys"), which was selected for various international film festivals. In 2014, he played his second leading role in the One Night Stand feature Ketamine and had a guest role in the successful series Penoza and Flikken Maastricht (two Dutch police series).
In 2015, he played the role of young André in the film adaptation of the book Ventoux, as well as the leading role in the One Nights Stand feature Een goed leven met een gelukkig eind ("A Good Life with a Happy Ending") and Geen koningen in ons bloed ("We will never be royals"). The latter earned him a Golden Calf award for best actor in a television drama.