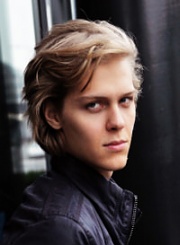 Jakub Gierszal can most recently be seen in Chad Hartigan's MORRIS FROM AMERICA opposite Craig Robinson.
Jakub's breakthrough role as the rich, sexually conflicted Dominik in Jan Komasa's SUICIDE ROOM propelled him to international attention. He received a Shooting Star Award at the 2012 Berlin Film Festival and has since gone on to appear in leading roles on stage in screen in his native Poland and throughout Europe.
Notable credits include the role of Krystian Ceglarski in INFLUENCE, the multi award winning FINSTERWORLD (Jakub's German speaking debut) and DRACULA UNTOLD for Universal Pictures.
Jakub Gierszał Short Reel

SUICIDE ROOM Official Trailer

YUMA Official Trailer

LASTING Official Trailer