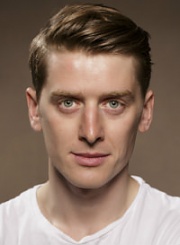 The following files are available for download by logged-in customers.

Ian_Toner_CVMAY13.pdf
[CV, 111KB]
If you already have access details please
log in now

Need access? - Contact us to arrange password access
Ian Toner graduated from U.C.D. in 2010 with a degree in English with Film Studies. Ian is currently appearing as JJ Hopkins in _ An Klondike_, a new TV mini series for TG4 which was produced by Abu Media.
Ian will soon appear in At The Ford (Rise Productions) at the Dublin Theatre Festival.
He recently appeared as Tybalt in Romeo and Juliet at The Gate Theatre, Dublin.
Whilst at UCD he was a very active member of the Drama Society, appearing in roles such as Harry in A Whistle in the Dark, Gerry Evans in Dancing at Lughnasa, Public Gar in Philadelphia, Here I Come!, Edgar in King Lear and Ricky Roma in Glengarry Glen Ross. In 2010, he co-founded Loose Thread Theatre Company who brought their debut show, The Ladder & The Moon, an original devised piece, to the Edinburgh Fringe Festival that year.
Ian trained at the Gaiety School of Acting full-time course. As part of the Gaiety School's Manifesto program, he collaborated with Aonghus Og McAnally on an original, one man piece called The Greatest Show on Earth. He appeared in the Gaiety graduation play, a newly commissioned piece by Gary Duggan called Town/Country, in Smock Alley. Ian recently appeared in the Chill Insurance Barber Ad directed by Declan Lowney (see below).
Ian played Tom in The Vortex directed Annabelle Comyn at the Gate Theatre and recently played in Charlie opposite Aidan Gillen in a three part mini-series produced by Touchpaper Films/RTE and due for transmission in 2015.
He made his debut at for the Lyric Theatre, Belfast in the role of Bennett in the highly acclaimed production of Punk Rock in Belfast directed by Selina Cartmell.
An Klondike Scenes

An Klondike Official Trailer

Punk Rock Theatre Trailer