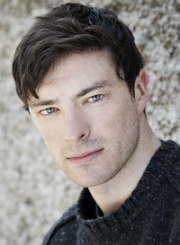 *to download videos, click play, then click the arrow on the upper right corner of the screen
Earlier this year Gavin completed shooting on MY MOTHER AND OTHER STRANGERS for the BBC directed by Adrian Shergold playing the role of Barney Quinn, this year he also filmed on Luc Besson's next feature film VALERIAN AND THE CITY OF A THOUSAND PLANETS for EurpoaCorp playing the role of Cooper.
He can currently be seen on the History Channel playing the role of Alaric in BARBARIANS RISING directed by Maurice Sweeney.
Gavin played the role of Mick in WRECKING THE RISING, directed by Ruan Magan for TG4, Luke in season 2 of LOVE/ HATE the award winning drama series written by Stuart Carolan for Octagon Films/RTE. He appeared in the independent feature film WHAT RICHARD DID playing the role of Stephen, directed by Lenny Abrahamson for Element Films. He also appeared in the recurring role of Christian Tracey in JACK TAYLOR: PRIEST for Magma Films/TV3/RTL.
Gavin recently appeared as Poins, Gloucester, Rambures and Aumerle in DRUIDSHAKESPEARE, directed by Garry Hynes for Druid Theatre Company, which toured in Ireland and went to New York (Lincoln Festival 2015). Other theatre includes Gar Private in PHILADELPHIA HERE I COME! at the Lyric Theatre, Belfast directed by Andrew Flynn and Traoloch in Paul Howard's hit play BREAKING DAD, directed by Jimmy Fey at The Gaiety Theatre for Landmark Productions.
He previously appeared in the roles of Des in A WHISTLE IN THE DARK and Liam in FAMINE as part of DRUIDMURPHY, directed by Garry Hynes for Druid Theatre Company which went on an international tour (UK/USA) and was staged at the Dublin Theatre Festival.
Gavin was nominated for Best Supporting Actor at the Irish Times Theatre Awards for his performance in A WHISTLE IN THE DARK.