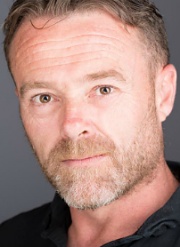 The following files are available for download by logged-in customers.

LalorEricDEC12.pdf
[CV, 94KB]
If you already have access details please
log in now

Need access? - Contact us to arrange password access
Better known as a standup comedian, Eric has recently turned his attention to acting and has already got parts in RTE's The Importance of Being Whatever, Love/Hate and Amber (directed by Thaddeus O'Sullivan for RTE). Eric has also appeared in the short films No Messages and Breath In. Eric is currently a regular participant in the Factory Acting Studio run by Maureen Hughes, Lance Daly, Kirsten Sheridan and John Carney. Eric most recently appeared in the hit play Singlehood, written and directed by Una McKevitt and Dan Coffey which transferred to Vicar Street in early 2013. Eric recently won Best Actor at the London Ealing Film Awards for his performance in the short film In the Valley of the Moon.