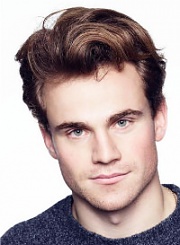 Allan Hyde Showreel

*to download videos, click play, then click the arrow on the upper right corner of the screen
Allan Hyde can most recently be seen playing the role of William in René Frelle Petersen's HUNDLIV. Recent TV credits include: the starring role of Anton in the series ANTON90; the recurring role of Michael in JULEØNSKET; and recurring role in HEARTLESS as Pieter Stockholm.
Allan became a name in Denmark after four seasons in the role as the 2000-year-old vampire Godric in the HBO show TRUE BLOOD. He also played the part of Peter in the FATHER TO FOUR: UNCLE SOFUS RETURNS, and filmed in Iceland in the role of Davin, one of the lead roles in the film version of the hit novel THE SHAMERS DAUGHTER, written by Lene Kaaberbøl.
Theatre performances include the Tivoli Garden Concert Hall as Danny's buddie Kenickie in the hit musical GREASE.