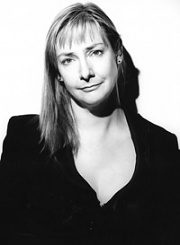 The following files are available for download by logged-in customers.

McLynnPJA08.pdf
[CV, 207KB]
If you already have access details please
log in now

Need access? - Contact us to arrange password access
Pauline McLynn is currently appearing in the new Jason Byrne sit com Father Figure for BBC2 and was most recently seen in Comedy Central UK's hit comedy drama Threesome with Amy Huberman. Previous Television appearances include: Series regular role of Libby in two series of Shameless/Channel 4, The Bleak Old Shop of Stuff/BBC, & Pramface/ BBC. She appeared in all 3 seasons of Jam and Jerusalem (aka Clatterford) as Tip Haddem opposite Jennifer Saunders, Sue Johnston, Dawn French and Joanna Lumley/BBC, Bremner, Bird and Fortune (Channel 4, six series), High Hopes (BBC), French and Saunders (BBC), TV To Go/BBC1,two series), The Dark Ages for ITV, It Happened Last Year, Aristocrats and Ballykissangel all for the BBC.
Recent film includes: Mother Superior in Stephen Bradley's new film Noble. Previous film includes: Helen in Gypo, (the first Dogme licensed film made in the U.K. directed by Jan Dunn, winning a British Independent Film Award). She played Sister Hilda opposite Brendan Blethyn in The Calling, Iris directed by Richard Eyre, Heidi directed by Paul Marcus, Angela's Ashes directed by Alan Parker, The Most Fertile Man in Ireland directed by Dudi Appleton, An Everlasting Piece directed by Barry Levinson and When Brendan met Trudy directed by Kieron J. Walsh.
Earlier screen work includes: Quills, Nora, Her Own Rules, Guilttrip, and Roddy Doyle's TV series Family, directed by Michael Winterbottom.
Pauline is also a seasoned radio performer, best known on radio for her work on Gerard Stembridge and Dermot Morgan's legendary satire series Scrap Saturday for RTE Radio 1.
Pauline is a well-loved face on the Irish Stage and has appeared with all of its major theatres including The Abbey and Gate, Rough Magic and Druid. Most recently she appeared in both productions of Fiona Looney's hit plays Dandelions and October for Landmark Productions at the Olympia Theatre.
In the UK she recently appeared on stage in an acclaimed production of Samuel Beckett's Happy Days at the Sheffield Crucible directed by Jonathan Humphreys (2011).
Pauline was winner of Best Comedy Actress on British TV in 1996 for her role as Mrs. Doyle in the BAFTA award winning comedy series Father Ted for C4.
She has also published 8 best-selling novels, Something for the Weekend (1999), Better Than A Rest (2001), Right on Time (2002), The Woman on the Bus (2004), Summer in the City (2005), Bright Lights and Promises (2007), Missing You Already (2009) and The Time Is Now (2010). In 2012 she published her first novel for young people, Jenny Q, Stitched Up! with Puffin Books, and the sequel JENNY Q, Unravelled is now available.
---
Voiceover sample 1
| | |
| --- | --- |
| Listen: | |
| Download: | |
---
Voiceover sample 2
| | |
| --- | --- |
| Listen: | |
| Download: | |