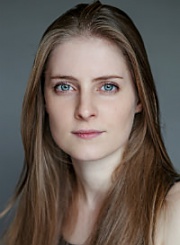 *to download videos, click play, then click the arrow on the upper right corner of the screen
Mary-Lou has a joint B.A. Hons in Drama and Theatre Studies and English from University College Cork.
Most recently she played the role of Rosemary in The Factory Girls by Frank McGuinness at the Everyman Theatre. This Autumn Mary-Lou will be touring to the U.S. with the Abbey Theatre, Ireland's National Theatre, in the one-woman show Me, Mollser by Ali White.
Other theatre credits include: Bees! A Musical (Dublin Theatre Festival/WillFredd Theatre/The Ark); Lovers: Winners (Everyman Theatre); The Secret Garden (BrokenCrow/Everyman) and Alice in Wonderland (Monkeyshine Theatre).
She recently finished filming on An Klondike series 2, where she reprised her role as Una. Series 1 of the multi-award winning T.V. drama is now available on American Netflix under it's international title Dominion Creek.
Other T.V. and Film productions include Pursuit (dir. Paul Mercier, AP Productions); Wrecking The Rising (dir. Ruán Magan, Tile Films); An Klondike series 1 (dir. Dathaí Keane, Abú Media); the Mario Rosenstock Show (dir. Damian Farrell, RTE), Corp+Anam (dir. Darach Mac Con Iomaire, TG4) and the multi-award winning series Aifric (dir. Paul Mercier, two seasons, TG4).
Mary-Lou is also interested in Dance and Physical Theatre and has performed in projects such as Bodies in Urban Spaces (Dublin Dance Festival/Cie. Willi Dorner) and Brokentalker's The Blue Boy. This production premiered at the Dublin Dance Festival in 2011 and subsequently Mary-Lou toured with The Blue Boy for 2 years to festivals and venues throughout the world with the production winning the Grand Prix Award at Festival Kontakt, Poland.
Mary-Lou also creates her own theatre productions. In 2016 she received an Artist Bursary award from Cork City Council Arts Office to further her skills in the area of Theatre for Young Audiences. Mary-Lou is a member of TYA Ireland and has traveled to many international festivals for young people in 2016 with the support of the bursary. As a theatre-maker she starred in and co-produced the comedy-drama Life Behind The Venue at the Everyman, Cork (Clinic Media) and later that year toured the production to the Project Arts Centre, Dublin.