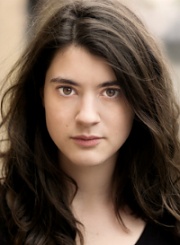 Maria Guiver is a English actress, holding both American and British citizenship. She is a final year student at The Lir Academy, graduating in July 2016.
Credits at The Lir include Cassandra in Agamemnon, directed by Wayne Jordan, Trassie Conlee in Sharon's Grave, directed by Conall Morrison, Phebe in As You Like It, directed by Hilary Wood, Yelena in Uncle Vanya, directed by David Horan, and most recently, the title character in The Provoked Wife, directed by Lynne Parker. In her second year, she devised Given the Day, an original site-specific piece, with Louise Lowe, playing the part of Kate Murphy. She will next appear as Natalia Landauer in Jon Van Druten's I am a Camera, directed by Hilary Wood.
Prior to the Lir, Maria studied at The Royal Academy of Dramatic Art in London.