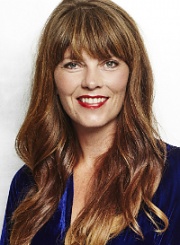 Lark Winther (born September 23, 1975) is a Danish actress, graduated from The Arts Educational School in London from 1996 to 1999.
Lark Winther had her debut in director Hella Joof Danish film "Shake It All About" as the young Sandy. Lark has since collaborated with Hella Joof, among other, the film "Oh Happy Day", DR1 television series "Album" and satire series "Normalerweize" which she wrote and starred in with the actress Anna Neye Poulsen. The series was first broadcast on DR2 in 2004, and they made several seasons, they also did the show live at the Bellevue Theater in 2009.
In addition to her comedic talent she also has great experience in dramatic roles in films and on TV. The most prominent is her starring role in "The Blessing" in which she played a new mother with postpartum depression. The film was shown at several international festivals, and she even received a Bodil Academy Award nomination for hes performance. Last year Lark starred in three films, Erik Clausen "People are eaten", children's cult film "Antboy" (which is being remade in Hollywood) and starred in "My sister's children" feature film series.
Moreover, Lark also made many excellent roles on TV, including DR's "Better Time", "Lærkevej", the Emmy nominated youth series "Mille", "bankruptcy" and permanent roles in TV2 series "Those Who Kill" and "Dicte" for three seasons.
Having just completed filming the satire series "While we squeeze the lemon, Section 1-5" to DR2. As well as the feature film "The Pampered". And about to start filming the feature film "three things" that kicks in spring 2016th