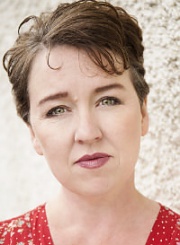 The following files are available for download by logged-in customers.

ArdiffKarenMA12.pdf
[CV, 275KB]
If you already have access details please
log in now

Need access? - Contact us to arrange password access
Biography – Karen was born in Dublin and graduated from the Samuel Beckett Centre in TCD.
Karen is currently appearing in Brooklyn, a new feature film alongside Saoirse Ronan and Domhnall Gleeson, directed by John Crowley and nominated for numerous international awards. She recently appeared in Noble, directed by Stephen Bradley, on nationwide release in Ireland from late September 2014 and set for American distribution in 2015.
Karen most recently appeared on stage in the Abbey Theatre's production of Oedipus directed by Wayne Jordan.
In theatre Karen appeared in Peer Gynt, directed by Lynne Parker (Rough Magic) for which she was nominated for Best Supporting Actress in the 2012 Irish Times Theatre awards, Threepenny Opera directed by Wayne Jordan at the Gate Theatre Dublin, (Previous work with The Gate Theatre includes: The Cherry Orchard, A Month In The Country and The Seagull), Steel Magnolias with Mischa Barton (The Gaiety Theatre), Plaza Suite with Rough Magic, IrishTour and Gaiety Theatre.
Her work at the Abbey and Peacock Theatres includes: Love in the Title, Abbey and international tour, for which she won the ESB/Irish Times Best Actress Award, La Dispute (directed by Wayne Jordan), Beauty in a Broken Place, Doldrum Bay, Cuirt an Mhean Oiche (Peacock and National tour),Judas of the Gallarus (Peacock), The Rivals (Abbey), Tarry Flynn (Abbey and Royal National Theatre), The Marriage of Figaro (Abbey), The Well Of The Saints (Abbey and Edinburgh tour), Good Evening Mr.Collins (Peacock and National Tour) and The Crucible (Abbey).
Work with other companies includes: The Colleen Bawn (Bedrock) for which she was nominated for Best Supporting Actress at the Irish Times Theatre awards 2011 and The Stuff of Myth (Crazy Dog Audio Theatre & Lane Productions) and Helene Hannf in 84 Charing Cross Road at Andrews Lane Theatre for both of which she received a Best Actress nomination in the Irish Times Theatre awards 2007. Thesis, The Importance of Being Earnest, Dinner with Friends and Taste (Guna Nua Theatre Co.), Pyrenees, (Hatch Theatre Company) Dream of Autumn (Rough Magic), Kvetch (Kilkenny Arts Festival), How I Learned To Drive (Lyric Belfast), 

Previous film and tv includes: A Terrible Beauty is Born, Tile Films, Jennifer (recurring character) in Fair City/RTE, The Running Mate (Treasure Films/TG4), Evelyn with Pierce Brosnan, Daisy Chain (Subotica Films), Sinners (BBC/RTE),Fergus's Wedding (RTE), Mrs. Robinson in Ros Na Run (TG4), The Long Way Home, This Is My Father with Aidan Quinn, Ballykissangel (BBC/RTE).
Karen has also performed in numerous RTE and BBC radio drama productions including; Duet (Newstalk), Tempting Faith (BBC 4) Greed is Good (BBC 4), The Bail Out (BBC 4), The Forgetting Curve, (BBC 4), Crazy Dog Audio (RTE), The Monotonous Life of Little Miss P (BBCNI), Three Sisters (RTE), Gone But Forgotten (RTE), Parachutes (BBCNI), I Do Not Like Thee Dr. Fell (RTE) and Gerry Stembridge's Daisy The Cow Who Talked (RTE).
---
Voiceover sample 1
| | |
| --- | --- |
| Listen: | |
| Download: | |
---
Voiceover sample 2
| | |
| --- | --- |
| Listen: | |
| Download: | |