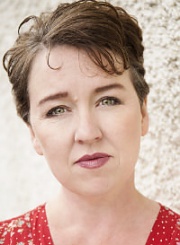 The following files are available for download by logged-in customers.

ArdiffKarenMA12.pdf
[CV, 275KB]
If you already have access details please
log in now

Need access? - Contact us to arrange password access
Karen can now be seen on stage in Normal , written by Caitriona Daly and directed by Maisie Lee for WeGetHighOnThisCollective's new show in the Dublin Fringe Festival. She will also be seen in RTE's brand new TV series Acceptable Risk, debuting in October.
Karen was born in Dublin and graduated from the Samuel Beckett Centre in TCD.
Karen recently appeared in the Oscar nominated Brooklyn, alongside Saoirse Ronan and Domhnall Gleeson, directed by John Crowley. She will next be seen on screen in Acceptable Risk alongside Elaine Cassidy, and later on this year in Isabel Coixet's The Bookshop. Previous Film/TV includes Noble (nominated for several international awards and three IFTAs), A Terrible Beauty… (Tile Films) as well as Evelyn with Pierce Brosnan.
Karen most recently appeared on stage in_Angela's Ashes – The Musical_, based on the novel by Frank McCourt at the Bord Gais theatre and the Grand Opera House in Belfast. Other recent stage credits include: Oedipus (Wayne Jordan, The Abbey Theatre), Peer Gynt (Lynne Parker, Rough Magic – Irish Times Best Supporting Actress nomination), Threepenny Opera (Wayne Jordan, The Gate Theatre) Steel Magnolias with Mischa Barton (The Gaiety Theatre), and Love in the Title (Abbey/International tour – ESB/Irish Times Best Actress Award).
Work with other companies includes: The Colleen Bawn (Bedrock – Irish Times Best Supporting Actress nomination), The Stuff of Myth (Crazy Dog Audio Theatre & Lane Productions) and Helene Hannf in 84 Charing Cross Road (Andrews Lane Theatre – Irish Times Best Actress nomination for both).
Karen has also performed in numerous radio dramas including; Duet (Newstalk), Tempting Faith and Greed is Good (BBC4).
---
Voiceover sample 1
| | |
| --- | --- |
| Listen: | |
| Download: | |
---
Voiceover sample 2
| | |
| --- | --- |
| Listen: | |
| Download: | |