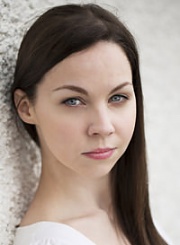 The following files are available for download by logged-in customers.

McGrathJane CV March12.pdf
[CV, 219KB]
If you already have access details please
log in now

Need access? - Contact us to arrange password access
*to download videos, click play, then click the arrow on the upper right corner of the screen
Jane graduated from the Gaiety School of Acting Full Time Acting Course in June 2009, since then she has appeared in a major role in Pure Mule The Last Weekend, directed by Declan Recks for Samson Films which appeared on RTE 1 in Autumn 2009 to huge critical acclaim and opposite Robert Sheehan in Michael Kinrons award winning short film Lowland Fell.. She appeared in Four Last Things by Lisa Tierney-Keogh, directed by Garrett Keogh for the Dublin Theatre Festival Fringe for which she was nominated for a Best Female Performer Award 2009.
Jane appeared as Cécile de Volanges in Les Liaisons Dangereuses opposite Nick Dunning in a production directed by Michael Barker Caven at the Gate Theatre, Dublin in 2010. Jane has since shot the Imogen Murphy pilot feature Honeycomb and appeared as both Sebastian and Viola in Twelfth Night directed by Valerie O'Connor for Shakespeare in the Park, Dublin. Jane appeared in Guna Nua's acclaimed production of the new play Chicane directed by Paul Meade in several Dublin theatres and on national tour. Jane also worked with Jim Sheridan on the Dream House project. Jane featured as one of the leading characters in the short film Switch which featured in the Tribeca Film Festival in New York, in Venom Film's short film Joy directed by Colm Quinn and in Zanzibar Films short Nowhere in Particular which won the audience award for Best Performances at the Wild Sound Short Film Festival in Toronto. She appeared in the mini-series for RTE, Amber, directed by Thaddeus O'Sullivan for Octagon Films for RTE.
Jane appeared in a leading role in the independent feature film Black Ice directed by Johnny Gogan at the Galway Film Fleadh 2013 and on The Tree opposite Mark Doherty, for Tilted Pictures. Jane appeared in Pineapple by Philip McMahon, directed by Darren Thornton in the Dublin Theatre Festival 2012. She appeared on BBC One in the first episode of Quirke, a new mini-series for BBC TV starring Gabriel Byrne and based on the books of John Banville. She appeared in a guest lead for Silent Witness (BBC) which aired in 2014 and in the same year as Sissy in Game of Thrones Season 4 (HBO). Since late 2014 Jane has been appearing as Garda Sharon Cleere, one of the series leads in TV3's hugely successful recurring drama series RED ROCK.