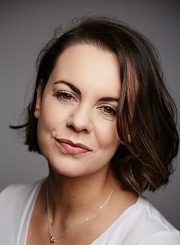 Hilary Rose will next be seen on screen in the TV series Young Offenders, the TV adaptation of the highly successful film.
Hilary Rose is an Irish actress and writer. She is an IFTA 2017 Best Supporting Actress Nominee. Hilary has written and performed comedy for RTE 2 for over five years, creating popular comedy characters such as Handy Sandie from Republic of Telly, Irinka and The Nun for The Fear and many more. She is currently starring in the hit, multi award winning Irish feature film, 'The Young Offenders' which is in cinemas and on all platforms worldwide.
Hilary's performance was reviewed well in the U.K by some of the most respected journalists.
Mark Kermode – BBC "Brilliantly played by Hilary Rose." Peter Bradshaw – Guardian "Hilary Rose is excellent as Conor's exasperated Mum." The Times: "Conor fleshes out the details of their daily lives, particularly his battles with his young mum, played brilliantly by Hilary Rose."
Hilary is an accomplished actress in TV, film and theatre, she is also the voice of several radio and TV promo campaigns. 
In 2013 Hilary was nominated as Entertainer of the Year by Tatler magazine and in 2014 she won Comedian of the Year as nominated by Stellar Magazine. She continues to write drama and comedy for production companies and broadcasters in Ireland and the UK. 
Classically trained as an actor, Hilary studied at The Gaiety School of Acting and RADA. She is also a First Class Honours graduate of IADT on their MA Screenwriting programme. Hilary is represented as a screenwriter by Casarotto Ramsay in the U.K.