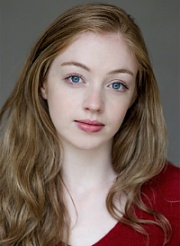 Emma Showreel 2017 from emma willis on Vimeo.
Emma just completely her BA in Theatre and Drama Studies at CIT Cork School of Music. During her studies, she has appeared in a number of productions including the Irish premiere of The Laramie Cycle (Joseph C. Walsh, Stack Theatre, CIT CSM, 2015) and Our Town (Ben Barnes, Stack Theatre, CIT CSM, 2016). Most recently, she appeared as Mary Boyle in Juno and the Paycock (directed by Ger Fitzgibbon) at the Everyman Palace Theatre, Cork.
Emma is also an accomplished screen performer, having starred in Oonagh Kearney's Irish film board short The Christening, and along side Brian Gleeson in Irish Feature Darkness on the Edge of Town which recently got distribution on America Netflix and itunes. She also appears in upcoming Feature Film The Young Offenders (Directed by Peter Foott) and just complete filming on her first television pilot called Dawn (Directed by Robert Stromberg and written by Hank Steinberg and Ken Nolan, produced by Hulu).