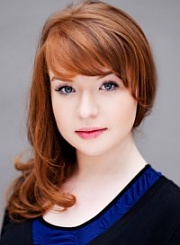 The following files are available for download by logged-in customers.

NiMhurchu,CaitrionaJA08.pdf
[CV, 200KB]
If you already have access details please
log in now

Need access? - Contact us to arrange password access
Caitriona attended University College Dublin, where she completed a BA in English and Drama, served as Auditor of UCD Dramsoc(2010/2011) and completed her MA in Drama and Performance. During her time in UCD, she was awarded the Patrick Semple medal for outstanding academic achievement in Drama Studies, as well as the UCD President award. In 2011 she was awarded the Ad Astra Academy scholarship for Drama where she trained under Director-In-Residence Kellie Hughes.
Caitriona has been acting since childhood, training at DADA, Dublin Academy of Dramatic Arts. While in UCD Dramsoc Caitriona played the part of Betty in A Whistle In The Dark for which she won the ISDA Award for Best Actress (2011), and Dzina in A Couple of Poor Polish Speaking Romanians (nominated for best actress, ISDA 2010). Caitriona went on to work with Louise Lowe's ANU Productions in 2012, starring in Taking To The Bed (Phizz Fest) and The Boys of Foley Street (Dublin Theatre Festival 2012) for which she was nominated for Best Actress in the Irish Times Theatre Awards 2013. Caitriona performed as part of ANU'S THIRTEEN where she was nominated for a Dublin Fringe Award 2013. She is a founding member of the We Get High On This Theatre Collective, who have toured Ireland with their production of Caitriona Daly's Sluts, in which Caitriona played the part of Amy. Sluts also performed in the Edinburgh Fringe (2011) and the 10 Days in Dublin Festival (2012).Other theatre credits include Joan in The Lark(Fast Intent, Smock Alley) Ciara in NARF by Caitriona Daly, Text Messages (Project Arts Centre), The State Commemoration (ANU Productions), and Annabelle's Star by Raymond Keane and Mary McNally (The Ark). Caitriona filmed with Paul Mercier starring as Sarah in We Ourselves. Caitriona recently appeared in Anu Theatre Company's production of Angel Meadow in Manchester directed by Louise Lowe.
In late 2014 Caitriona appeared in Spinning by Deirdre Kinehan, directed by Jim Culleton for Fishamble Theatre Company at Dublin Theatre Festival 2014 for which she was nominated for a Best Supporting Actress Award in the 2015 Irish Times Theatre Awards. Caitriona most recently appeared in Scuttlers in the Spring of 2015 at the Royal Exchange Theatre, Manchester, directed by Wils Wilson.