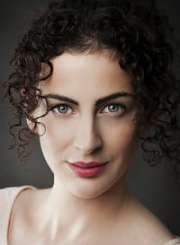 Breffni was most recently seen on stage in Nina's Got News by Frank Skinner at the Edinburgh Fringe Festival.
Breffni recently graduated from Drama & English at Trinity College Dublin.
A multi-disciplinary theatre-maker, she has worked with leading Irish theatre companies including Dead Centre (Chekhov's First Play, international tour including Berlin's Schaubühne, Bristol Old Vic, and many more), Rough Magic (Zoe Reardon's Enjoy, Rosemary McKenna's The Way to Heaven, and The Critic), Anu Productions (VARDO), and Collapsing Horse (Quest Love and Distance from the Event).
She has also performed in other independent projects for the Abbey Theatre (24 Hour Plays), 10 Days in Dublin (All Talk), the Samuel Beckett Centre (Doireann Coady's Phaedra's Love), Players' Theatre, the Irish Student Drama Association (Crave, A Woman of No Importance, One More Minute, East, Freak), Sarah-Jane Scaife and Bryan Burroughs (At the Hawk's Well), and Shaun Dunne (The Sorrows). In 2016, Breffni co-founded Malaprop whose debut production LOVE+ was awarded the Spirit of Fringe and Project Commission 2015.
Screen credits include Fading Away (Filmbase feature), All Talk, Badger Hill's Bright Eyes, and Syracuze's Winter Sun I & II. Breffni trained in contemporary dance at Cois Céim and is also a published poet.