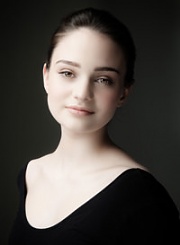 The following files are available for download by logged-in customers.

FranciosiAislingCVJan12.pdf
[CV, 221KB]
If you already have access details please
log in now

Need access? - Contact us to arrange password access
Aisling made her professional theatre debut on the Gate stage in Charles Dickens A Christmas Carol in 2009. Since then she has performed at the Gate in Charlotte Brontë's Jane Eyre, Louisa May Alcott's Little Women and, for Corcadorca, Juliet in Romeo and Juliet at the Cork Opera House.
She appeared on screen as Katie in The Fall for BBC and as Phoebe Griffin, the young female lead, in BBC's Quirke playing the daughter of Gabriel Byrne. Most recently she was seen as Marie in Ken Loach's Jimmy's Hall, currently on nationwide release. She recently completed filming on series two of The Fall which is due to air on BBC One in late 2014.
Aisling is a classically trained singer and has obtained a grade 8 with the ABRSM. She made her professional singing debut in Il Trovatore and La Boheme with Opus 1 opera company and went on to sing in the Ellen Kent Opera company's production of Tosca. She also sang in Joseph and the Technicolor Dreamcoat_(Bill Kenwright Productions) in the Gaiety Theatre. Aisling has reached grade 7 in piano with the ABRSM.
Aisling is fluent in Italian, Spanish and French, with a bachelor degree in languages, studying French and Spanish at Trinity College Dublin.